Vintage O Gauge mostly Hornby exhibition layout.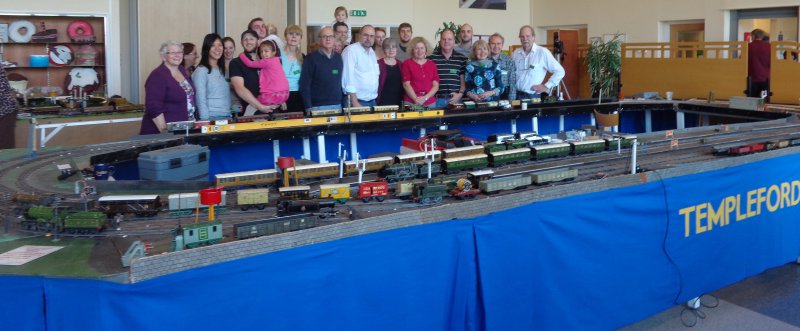 ABOVE
The late Laurie Tandy's exhibition layout, Templeford, with its owners, the Tandy family, standing behind the layout on Octber 31st 2015, during its first showing since 1962.
Thanks to the kind offer of Bessels Green Baptist Church (which is a very lively and active church on the edge of Sevenoaks) we were able to have their church hall for a full six days. Day one was mostly spent arriving at the Hall and setting up Templeford. Days 2, 3 and 4 (Tuesday, Wednesday and Thursday) were mostly spent in various tasks which we have set ourselves which included checking on the running distances of all the clockwork locomotives, doing any repair work to points or point motors, tracing any minor faults (these can be as simple as a missing fish plate or two conductor rails touching where they should not do so). On the Tuesday, Wednesday and Thursday we also set up the new Templeford West boards and laid most of the track on them. Day five (Friday, 11 August) was designated a practice session, and for that we had the whole team with us. The main purpose of this was to give the opportunity of those who have had rather less experience on the panel than some of us to start to get to grips with it. 

The operating team for the Bessels Green practice session and open day were members of the Tandy family, namely Dave, Ian, Marilla with husband Allan, Phil and myself (Claire) along with Sarah and Finn Watkins, recruited as a result of our visit to the Downs Light Railway Gala in April/May. Guest operators included Chris Austin, a friend of mine from the West Somerset Railway, and Nick Dodson of

Railfilms Ltd who not only masterminded the Downs Light Railway Gala, but wanted to film Templeford some more.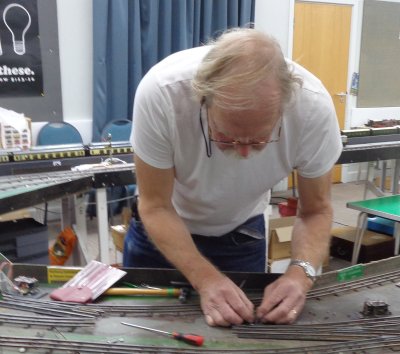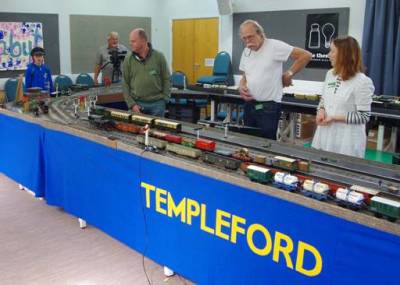 ABOVE  

left to right
Finn, Phil, Dave, and Sarah running the layout
on the Saturday.

(photo Copyright Rick Woodward)
 ABOVE 

Earlier in the week Dave seen working on a Point motor replacement
 LEFT
In this photo, Dave is on the panel, and Claire, Sarah and Phil are driving trains. Prominent in foreground is the Great Western Railway Prairie tank 4160, one of the few locos that is not a Hornby product. It is pulling the five Exley coaches, which it handles with ease despite their weight. Handled carefully the Prairie tank and Exley coaches run beautifully.
Photo copyright

Rick Woodward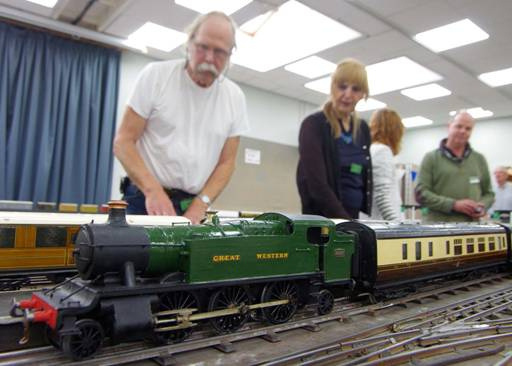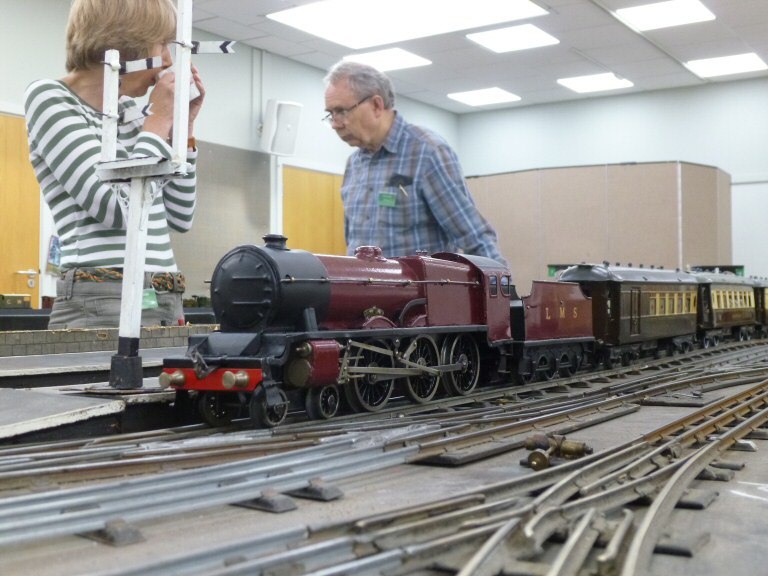 r
ABOVE
Another non-Hornby locomotive, is the Bassett Lowke Royal Scot, at the head of a train of nine Hornby Pullmans. Just like their full-sized counterparts these coaches are heavy, but the loco pulls them with ease. It has been fitted with new coupling rods manufactured by Ian, our mechanical engineer. Enjoying a short pause whilst the train is stopped at the platform are Marilla and Allan.
Photo copyright Chris Austin.
This photo can also be seen on the West Somerset Steam Railway Trust website news pages.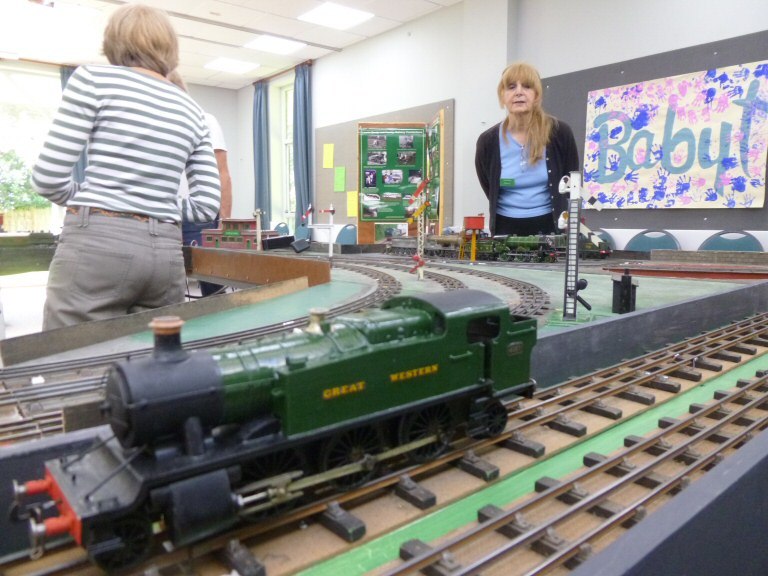 ABOVE
The Prairie tank has always caused a great deal of interest. We are not absolutely certain as to who built the bodywork, but the underframe and motor were built by our dad although he never managed to finish it off. It was completed for us by David Atkinson in 2015, and then painted by Claire, with transfers by Fox transfers and number plates by Severn Mill. The number 4160 was chosen because Dad had a footplate ride on the full size version on the West Somerset Railway as a 90th birthday present .

Photo copyright Chris Austin. This photo can also be seen on the West Somerset Steam Railway Trust website.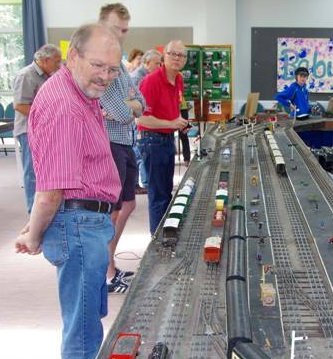 LEFT

Seen here in a red shirt is Ian, our Mechanical Engineer, enjoying shunting the sidings. In the background is Finn, himself a keen railway enthusiast and qualified steam engine driver on the Downs Light railway, but on this occasion working the MPD. As far as possible, each member of the team gets the opportunity to work a different position on the layout throughout the day.
photo copyright Rick Woodward

RIGHT
Another interesting photo! A photo of Nick Dodson not behind the camera for once, but working the motive power depot with a little guidance from Marilla. On shed can be seen four of our six Schools class locomotives, including two versions of number 900 Eton. One is clockwork and the other electric.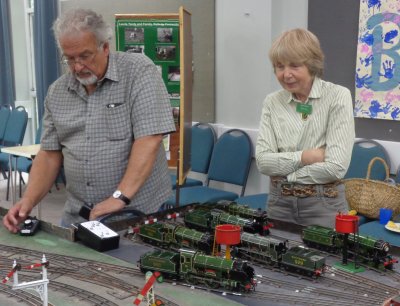 BELOW

The after show party! It is entirely due to Ian and Jane Ellen who are members of Bessels Green Baptist Church, and the kindness of the church themselves, that we have been allowed to use their church hall for nearly a week. So an enormous thanks is due to all of them for making this week possible. Ian and Jane Ellen hit on the brilliant idea of us all having a meal together right at the end of the open day. This is the time at which we are at our most tired, and having finished a very successful week of work and running the layout, we now had the task of dismantling the layout and removing it from the Hall. All people who exhibit model railways will know that feeling well. It is certainly not a sedentary hobby!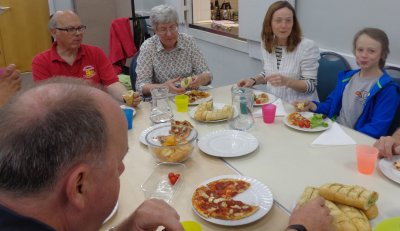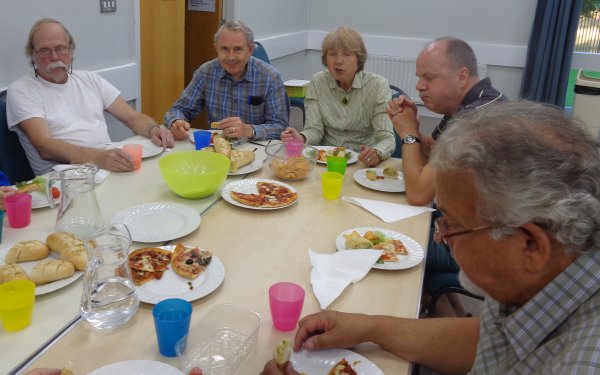 RIGHT

After show Selfie! Phil having a very brief power nap at the table (i.e. caught in blinking mode) and Claire giving a good impression of being really tired.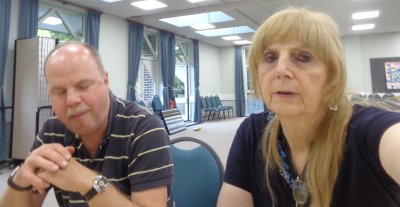 MAF
M A F stands for Mission Aviation Fellowship. It is a charity that was very dear to our dad's heart. Using light aircraft, they supply urgent medical supplies into remote parts of the world where it would otherwise be difficult to reach quickly. 
MAF began with several World War II pilots deciding that they could use their skills to help those in great need. MAF themselves remark as follows:

"In today's 'connected world', the irony is that never have so many people been so isolated.
Flying onto desert and jungle airstrips, lakes and rivers, tracks and roads, MAF's light aircraft and their mission pilots go the extra miles to provide a lifeline."

We were lent the church hall for free, and there was no entry charge for coming to visit the railway. However we asked that people made donations to MAF and were very pleased to be able to donate a three figure sum to the charity.

Youtube videos

There is now a ten minute video of Templeford featuring some of the running of Templeford at the Wimbledon Model Railway exhibition. The link to it is as below:


https://www.youtube.com/watch?v=8zLmqCsJVBs&feature=em-share_video_user


There is now a 12 minute video of Templeford at the Downs Light Railway Gala and Exhibition.
the link to it is as below:

There is now a 22 minute video of Templeford taken whilst at the Bessels Green practice and maintenance week. The link to it is as below
https://youtu.be/MbBKX3O2UQ0

A Youtube video of its renovation, first showing and dismantling at the end of the show can be seen by inserting Templefordrenovation into the youtube search box.