Vintage O Gauge mostly Hornby exhibition layout.

​How the layout was renovated.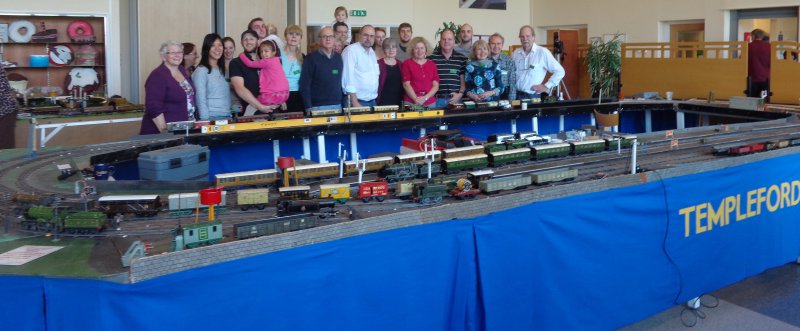 ABOVE
The late Laurie Tandy's exhibition layout, Templeford, with its owners, the Tandy family, standing behind the layout during its first showing since 1962.
Featured extensvely in the February 2016 edition of the Hornby Railway Collectors' Association journal, this almost unique Vintage O gauge layout is mainly Hornby with a strong Southern Railway bias, but all of the "Big Four" companies are represented. Layout consists of four platform through station with avoiding loop, small goods yard, two further goods sidings, and motive power depot with turntable. Most points are power operated with one or two hand points which we get spectators to operate for us. There is also a two road fiddle yard to facilitate stock changes. Up to 5 simultaneous train movements can be happening at any one time, and the layout is able to replicate all of the train movements that one might find on a large through station on the full-sized railway in the 1930s.
Originally built in 1959 and exhibited in 1960 and 1962  in our chilhood home town of Malvern by the late Laurie Tandy, this layout has been renovated in 2015 and has recently been exhibited for the first time in 53 years by his children.
Stock comprises between 25 and 30 locomotives (one or two may be being overhauled), with about two thirds being electric powered and one third clockwork, there are three rakes of five Southern Railway coaches, a rake of five Southern suburban coaches, a rake of eight Pullman coaches, a rake of eight Midland maroon coaches, a rake of five teak coaches and a rake of five Great Western coaches. Goods stock consists of about 80 wagons, both private owner and from the four railway companies. Not all of this stock is able to be on the layout at any one time.
A Youtube video of its renovation, first showing and dismantling at the end of the show can be seen by inserting Templefordrenovation into the youtube search box.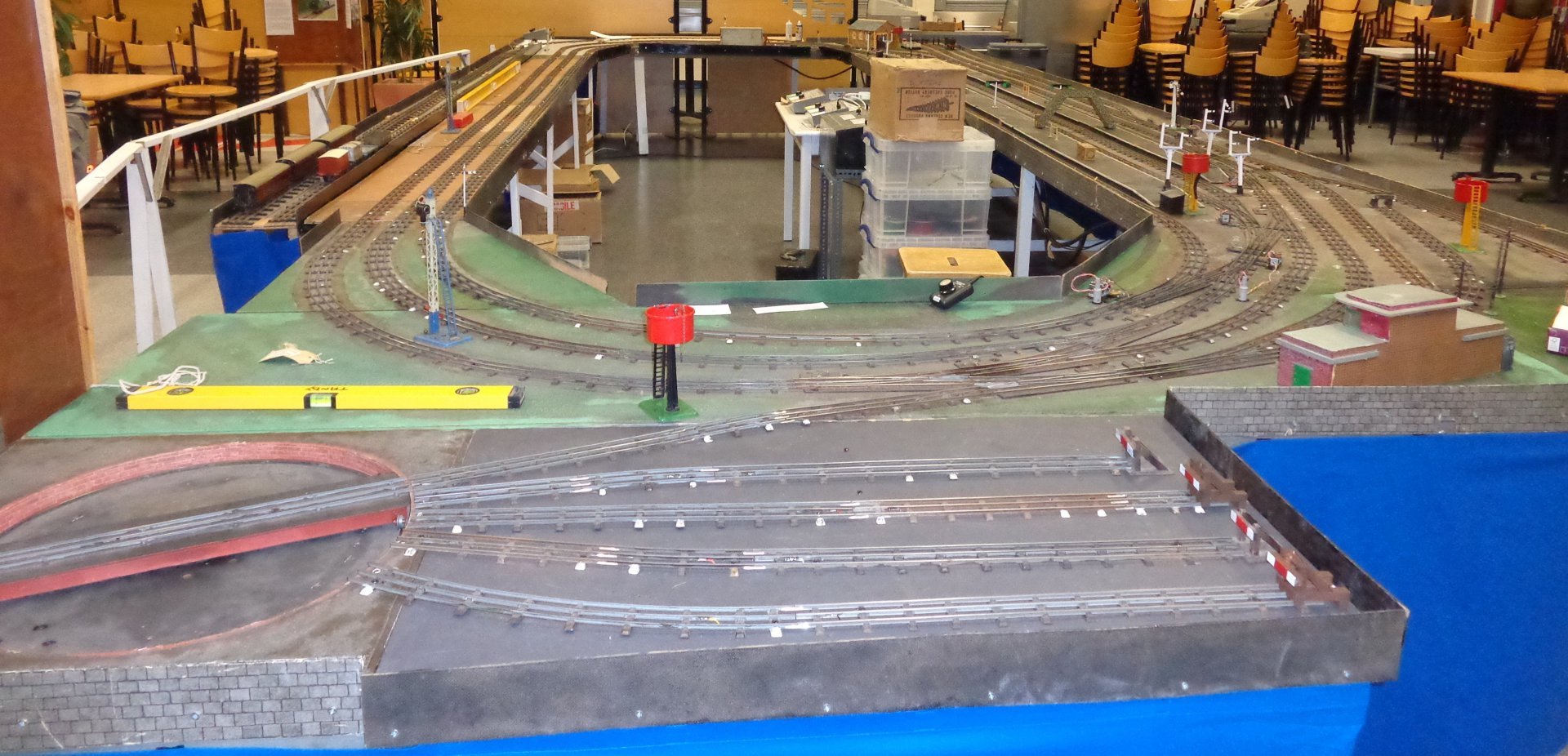 Overall view of Templeford prior to running stock onto the main layout
We are happy to exhibit in the South of England and in South Wales; to exhibitions of two days or longer. We only take the layout out twice a year unless the circumstances are exceptional.
As a rough area guide, anywhere from Kent in the East, to London, then anywhere relatively near the line of the M4, to Swansea in the west, and along the M5 south of Bristol into Devon. We would give serious consideration to going further North to a major exhibition, for example the layout went to the Warley show In November 2018. We would consider going even further North than Birmingham if the circumstances were right. 

The above video shows our clockwork County of Bedford running on Templeford
There are two other videos on YouTube,  both show in timelapse form how Templeford was renovated, the first video shows the original renovation, the second video shows how, by taking out one of the boards at the front of the layout and one at the back, the layout can be erected in a shortened form. With such a big layout (27'6" long) this is useful for setting it up in order to practice running it where we cannot find a venue big enough to set it up in its full-length form.