Photos taken by people other than members of the 
Tandy family
The photographs on this page were taken by Rebecca Strong and David Temple of the Hornby Railway Collectors Association Bristol group. Copyright of the photographs is as stated and are used with the permission of the copyright holders.
They can also be seen on the Hornby Railway collectors Association Burnham on Sea exhibition website,
(
http://www.somersethrca.org.uk/2015show.html)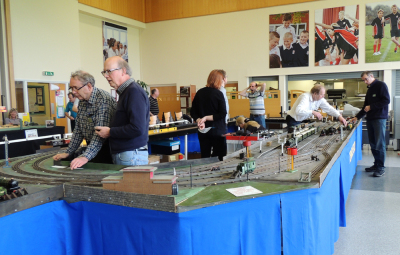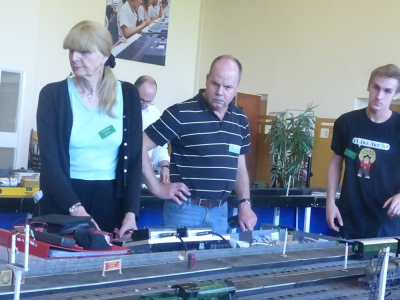 ABOVE
Operating Templeford.
There are six main controllers plus one and occasionally two controllers for the fiddle yard.
It is just about possible to make six train movements simultaneously, but even with the ingenious track plan with which our dad came up, that is stretching things to the limit.
Five simultaneous movements is possible but we do not regularly manage that number, perhaps as we all get more familiar with the working of the panel that may become a possibility on a regular basis. The control panel was built in 1960 and has been little changed from its original concept, it allows for automatic switching from one controller to another depending upon the settings of the points.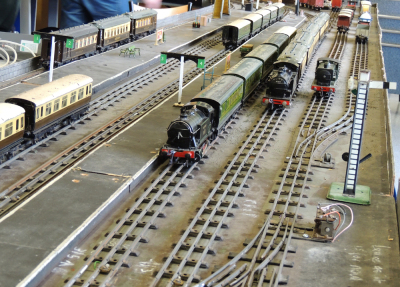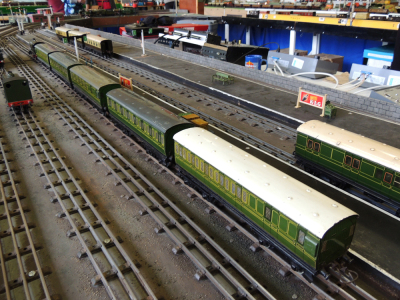 ABOVE
Two views of the main platforms, the one on the left looking West, and one on the right looking East.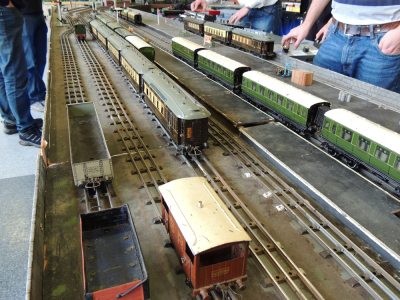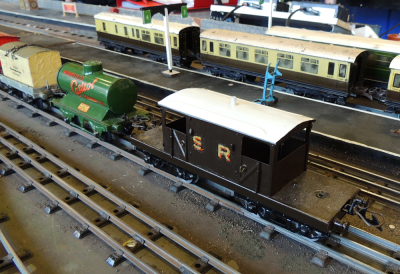 ABOVE
There is a rake of eight Pullman cars. All are visible in this photo. There is only one repeated name.
ABOVE
We understand that the Queen Mary brake van is known in Hornby Railway collectors circles as a neverwazza, (in that Hornby never made it.) With dad's fascination with milk trains, dad would probably have considered creating a Queen Mary brake van an essential for its extra braking ability..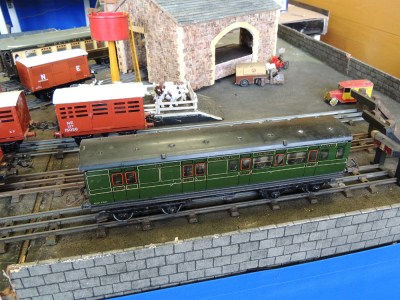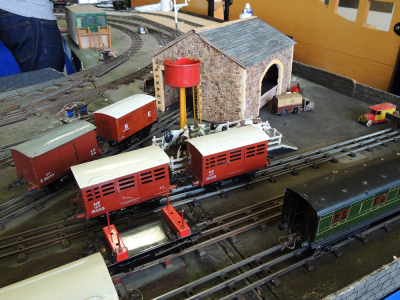 ABOVE
Two views showing the goods shed road and cattle dock siding. The model of the goods shed is a very recent addition. It is a true to scale model of Dunster goods shed on the West Somerset Railway. This goods shed was chosen especially because for many years our mother had a chalet at Dunster beach, in fact we holidayed regularly in Somerset as from 1953, often visiting Somerset as many as three times a year, as from when Mum first purchased the chalet. Visits therefore to the West Somerset Railway were frequent, long before it became heritage railway.
Shunting the goods shed and cattle dock siding adds to the interest of the Templeford layout, as in order to do so it is necessary to use the relief loop, thus rendering the loop temporarily unavailable for incoming goods trains from the fiddle yard.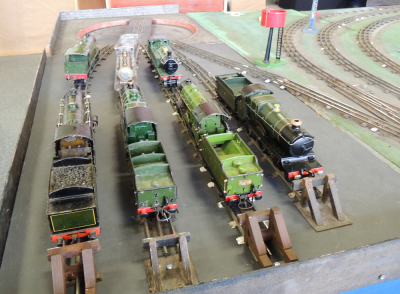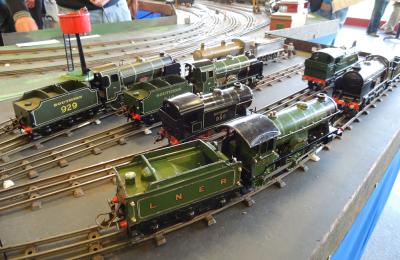 The motive power depot, or perhaps more correctly the locomotives that can be found in it when they are not out pulling trains, create a great deal of interest. In the three photos above and to the right can be seen, amongst others,  several of the Hornby Schools class, at least one of the Hunt class 4-4-0's, one of our four Hornby L1s, the Bing King Arthur, Dad's scratch built LSWR S 11, our Hornby clockwork County of Bedford, and a GWR 41XX prairie tank engine.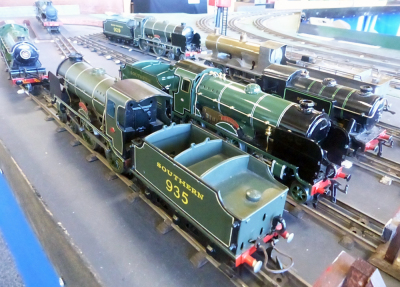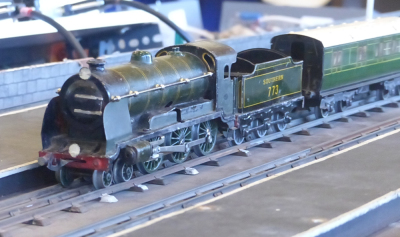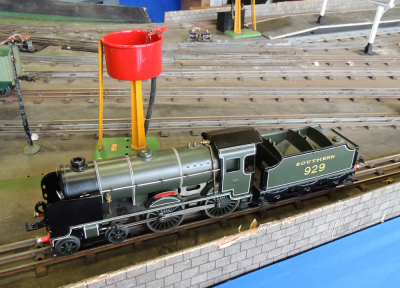 ABOVE

The Bing King Arthur. Originally having  a clockwork, slow running , powerful

mechanism, Dad fitted it with a 12 volt DC electric powered mechanism.

One of our six Schools class, fittingly this one has been runumberd 929 and therefore renamed Malvern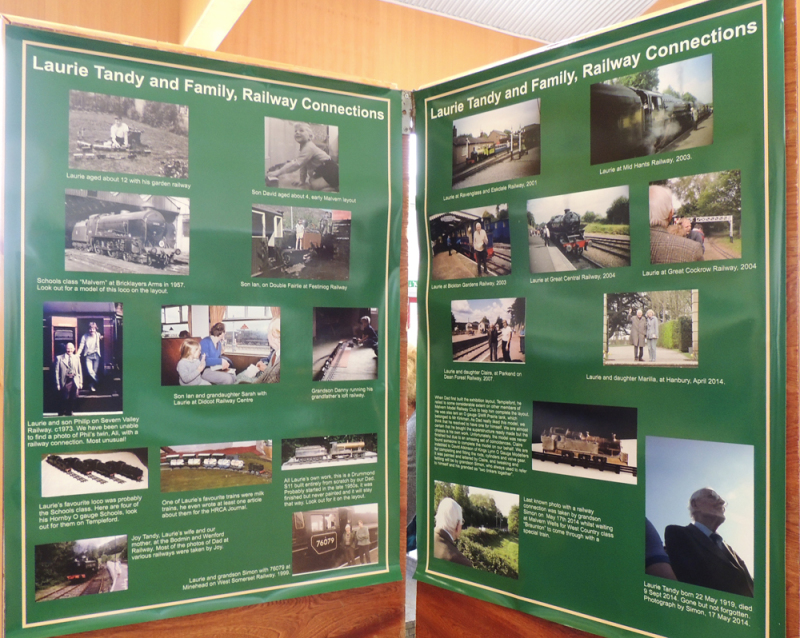 Were it not for our Dad, the layout that is now Templeford would never have come into existence. Dad had a lifelong passion and interest in railways , an interest in which he passed on to all his children to varying degrees. Our dsplay board is dedicated to his memory and shows various aspects of his railway interests, from his garden railway as a child to his last known photographed railway visit to see West Country Pacific "Braunton" pass through Malvern Wells.​

Photo of displayboard by David Temple, photos on the display board by the Tandy family.