Vintage O Gauge mostly Hornby exhibition layout.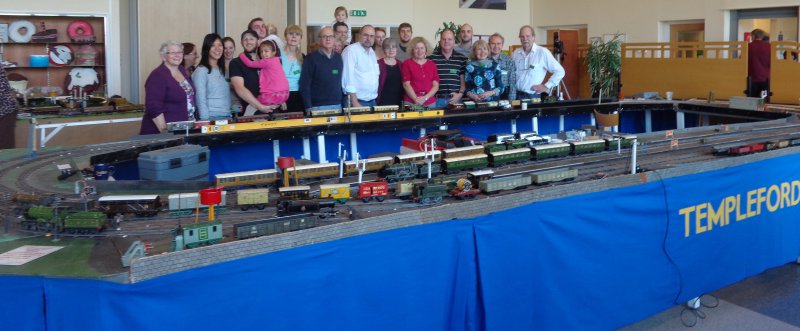 ABOVE
The late Laurie Tandy's exhibition layout, Templeford, with its owners, the Tandy family, standing behind the layout on Octber 31st 2015, during its first showing since 1962.
DOWNS  SCHOOL ARCHIVE

The next scheduled outing was for Templeford to be at the Downs School, Colwall,  Malvern,
on 30th April and 1st May 2017, as part of the Downs Light Railway Trust Gala weekend. This whole weekend was an amazing experience with several visiting locos on the 9 and 1/2 gauge light railway and Templeford running continuously throughout the whole exhibition with but one long pause for the golden fishplate ceremony.
A webpage for this event can be found by clicking on the link on the left.
BESSELS GREEN ARCHIVE
Templeford went to Bessels Green Baptist Church Hall, Sevenoaks, for nearly a week between August 7th and 12th, 2017. This was essentially a week to carry out maintenance, practice running the layout and  improve the facilities by constructing a terminus which will double as a fiddle yard to increase the stock capacity of the layout. This was a semi private event but visits  were be made by emailing (address on page 3) or via the UK model shop directory entry to request an invite to visit on any or the 6 days. (This was so that we could ensure that visitor numbers remained manageable).
​On the Saturday 12th there was an Open day (entrance to this was free but a donation was requested which was given to our late father's favourite charity, Mission Aviation Fellowship.

Parking at Bessels Green is very limited so if possible we asked  people to arrive by public transport

(Buses that run nearby are very infrequent but Sevenoaks Town Centre is just about within walking distance. )

There is every possibility that Templeford will go back to Bessels Green in August 2019.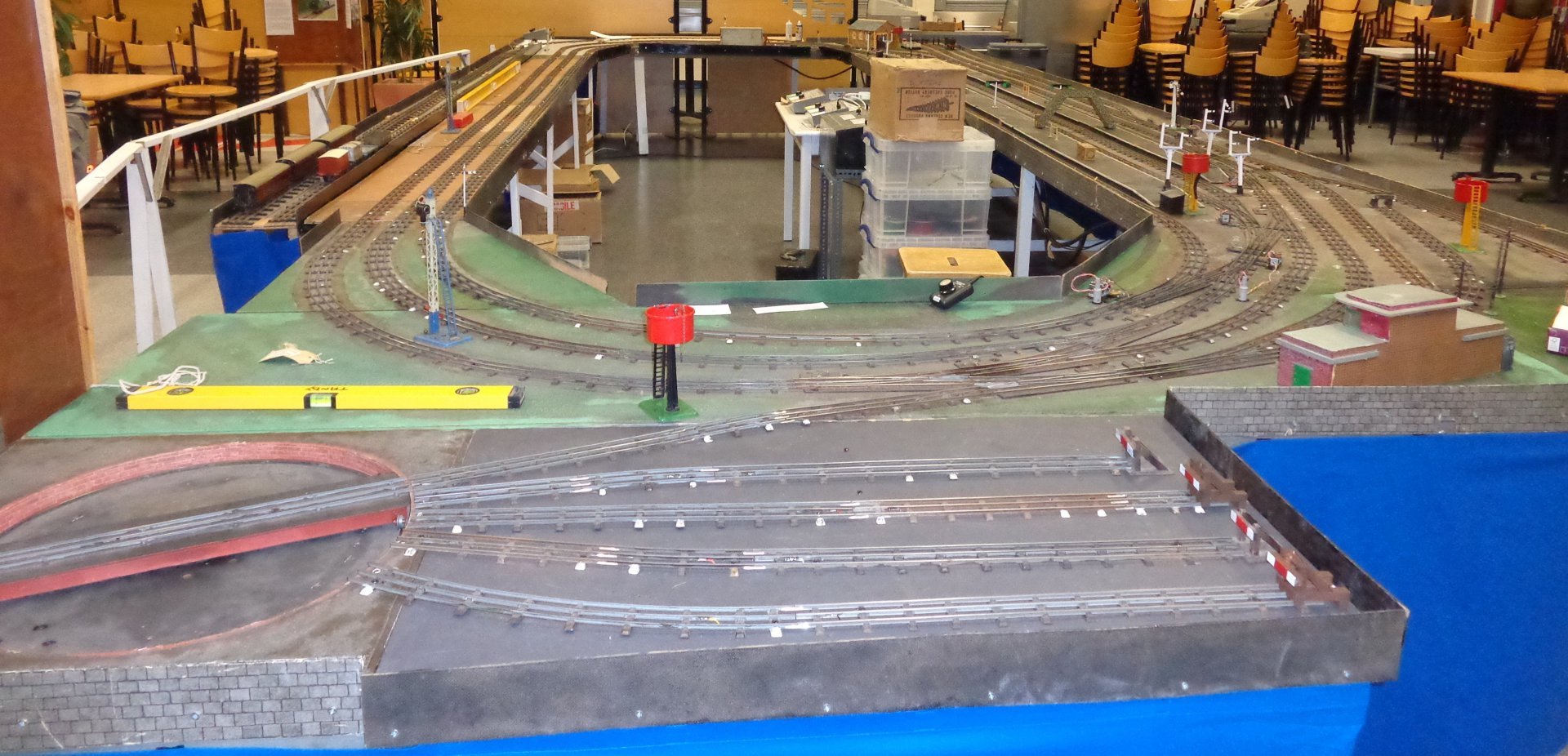 Overall view of Templeford prior to running stock onto the main layout
We aim to take the layout out twice a year. We are happy to exhibit at two or more day length exhibitions in the South of England and in South Wales; as a rough guide, from Kent in the East, London, then anywhere relatively near the line of the M4, to Swansea in the west, and along the M5 south of Bristol into Devon.  For a major two or three day exhibition we would consider taking the layout further North.  We have also now taken it back to exhibit in the Malvern area, the area in which it was built in 1959.

The above video shows our clockwork County of Bedford running on Templeford