Vintage O Gauge mostly Hornby exhibition layout.
​
TEMPLEFORD

 appeared at the Bristol Model Railway Exhibition on
4th, 5th and 6th May 2018. This is the Templeford at Bristol web page.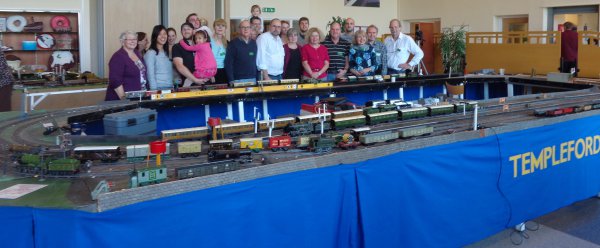 ABOVE
The late Laurie Tandy's exhibition layout, Templeford, with its owners, the Tandy family, standing behind the layout on Octber 31st 2015, during its first showing since 1962.
LATEST NEWS
Templeford appeared at the Warley Model  Railway Club Exhibition at the National Exhibition Centre on 24th and 25th November , 2018
We have been invited to take Templeford to Bournemouth Model Railway Club Exhibition on 9th and 10th February 2019. 
​

     We have been invited to take Templeford to the Spalding Model Railway Club Exhibition on 2nd and 3rd November. 2019. 
There are now several videos of Templeford on Youtube, these include the Railfilms short video view from the footplate,

Templeford at Wimbledon

Templeford at the Downs Light Railway Trust Gala ,

and the Bessels Green Week. 

Additionally on Youtube are the two time lapse videos showing how Templeford was renovated.

The new Bristol show Templeford video can be found via this link:

​

Templeford was at the three-day Model Railway exhibition held at Thornbury Leisure Centre in South Gloucestershire. (Just north of Bristol)
The layout was honoured by having a small photograph on the front cover of the exhibition guide (which photo is also reproduced on the left) and also a large photograph of our motive power depot spread across two pages within the guide itself in the "around the clubs" pages, which is also reproduced as below.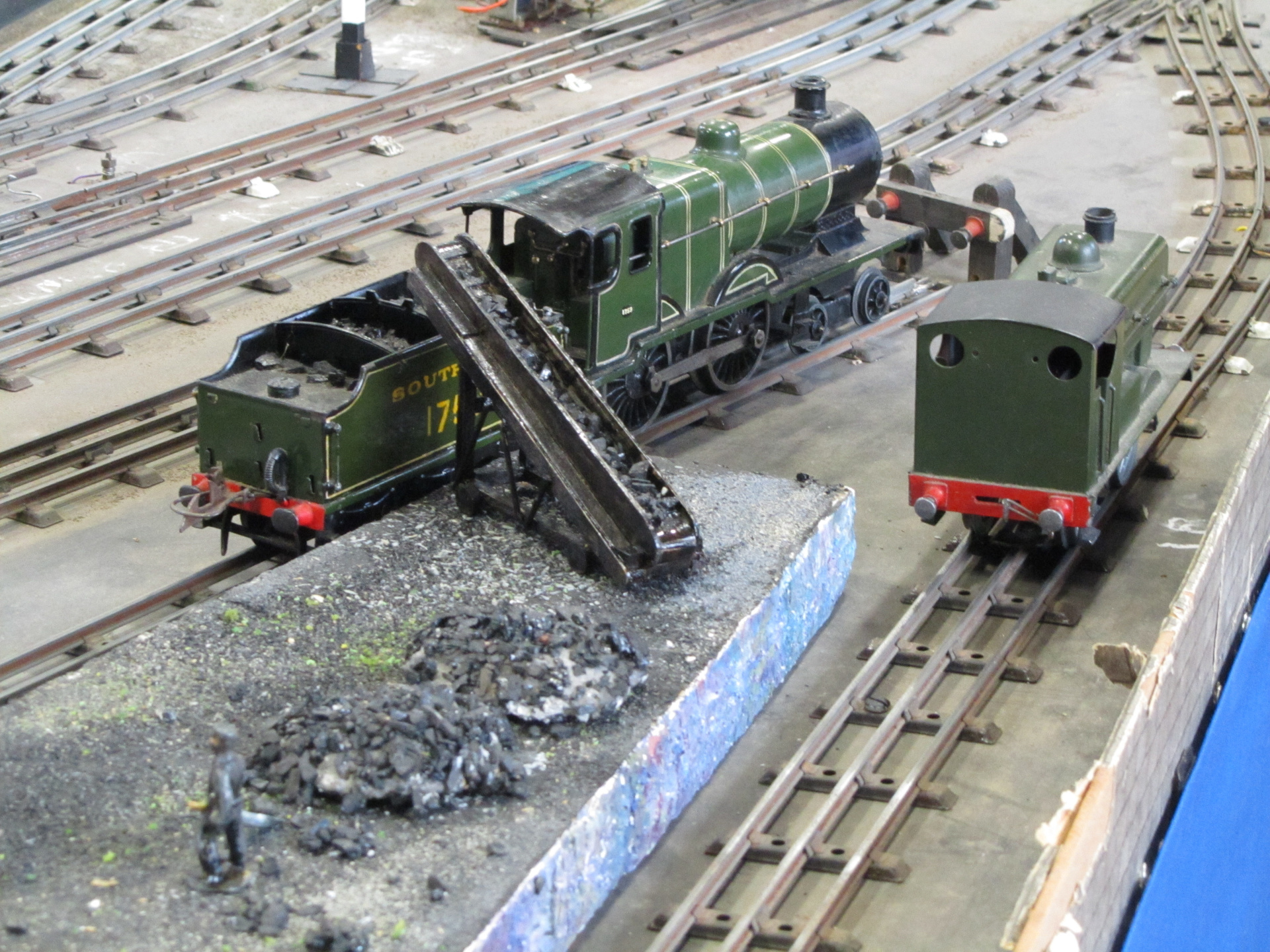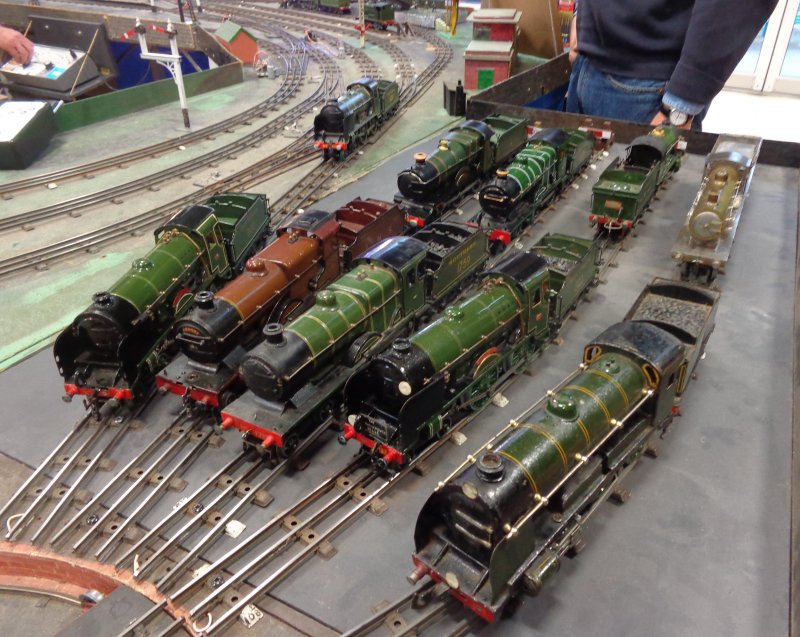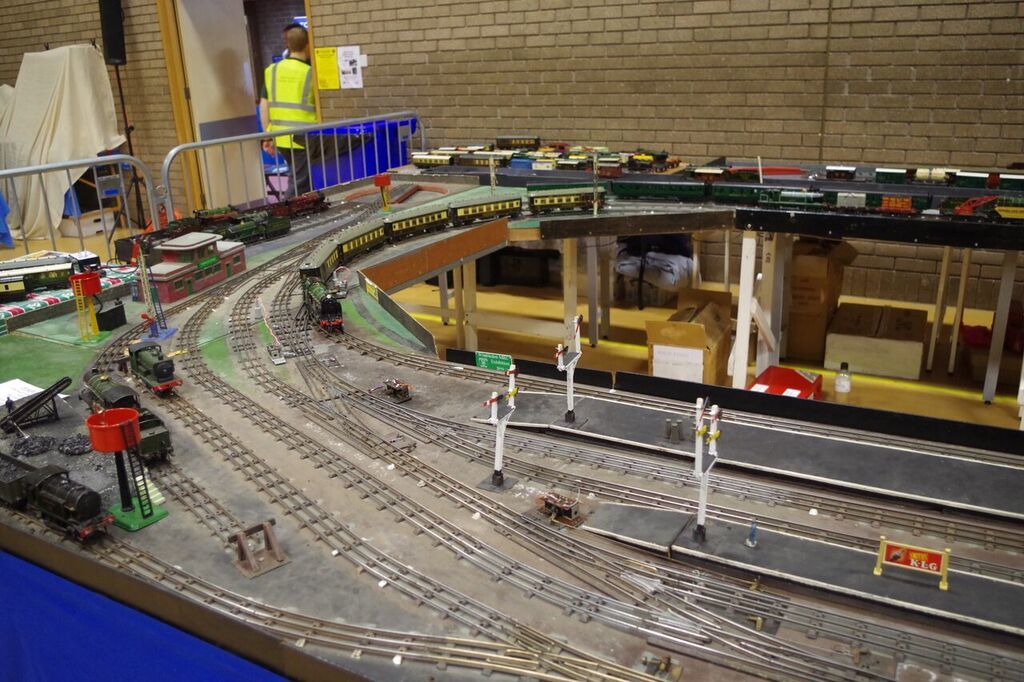 Above

A view of the East End of the layout showing the Motive Power Depot and coal stage in Hall 3 of the Bristol Model Railway exhibition (photo by Phil Tandy)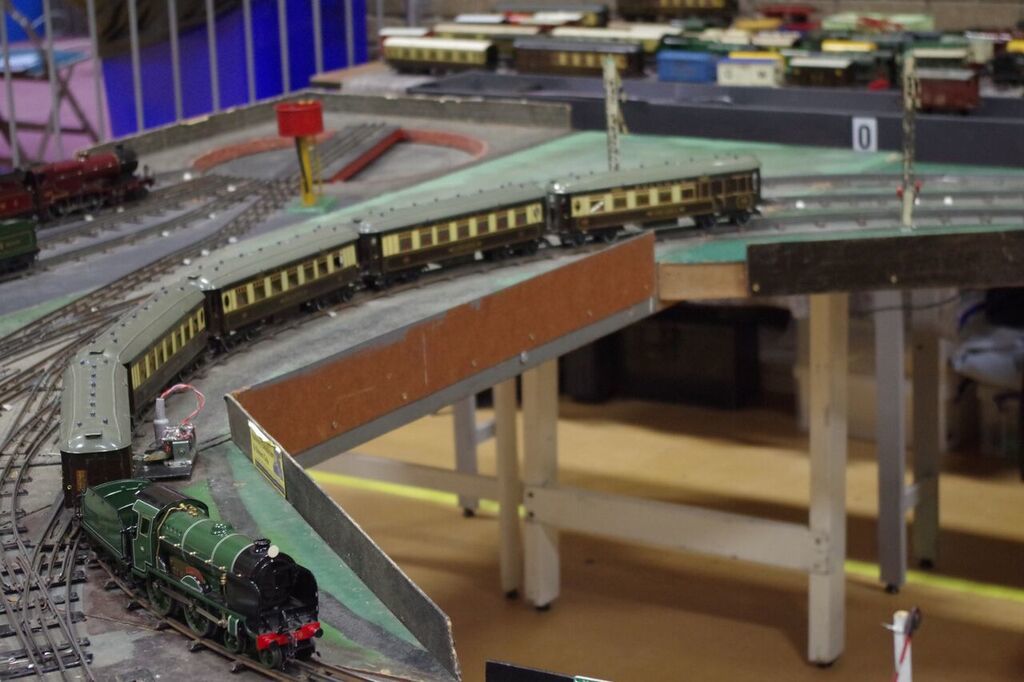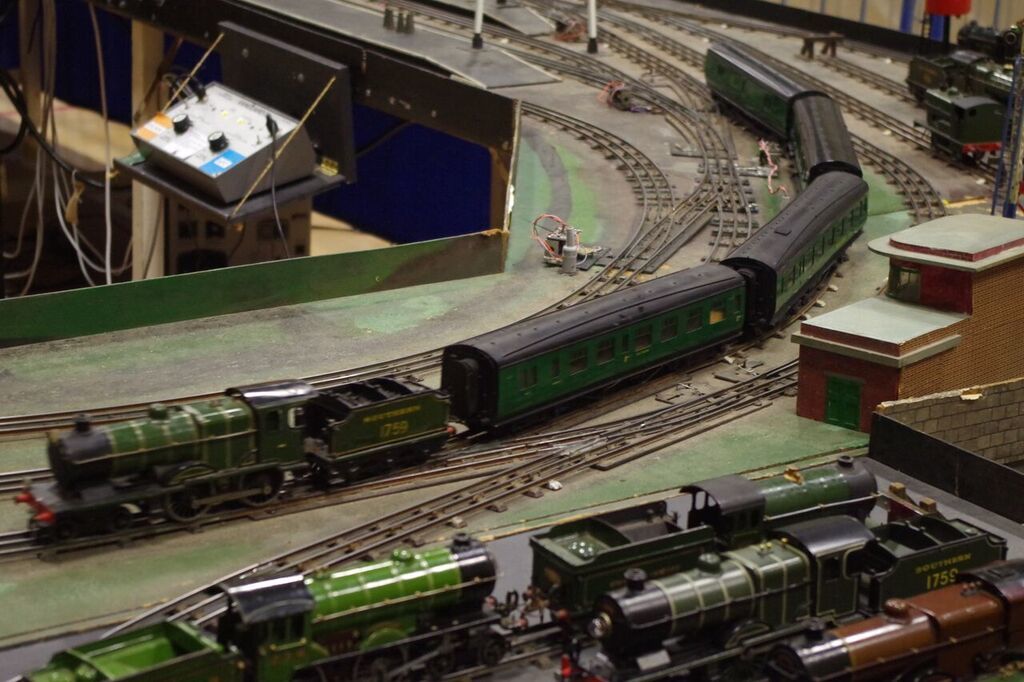 ABOVE
Electric L1 number 1759 hauling 4 Exley Southern green coaches, Bristol, May 2018.  (photo by Phil Tandy)

                      and BELOW 

        Clockwork L1 hauling 3 Exley Southern green coaches, Malvern, summer 1959. (we still have this

particular L1 but it has now been fitted with a 12  volt DC mechanism.)
 ABOVE

Schools class "Harrow)" with Pullman train, Bristol, May 2018

(photo by Phil Tandy) 

​and BELOW

Clockwork Schools class "Eton" (which we still own), with Pullman train, Malvern, summer 1959. the Pullman cars are the same ones in both photographs.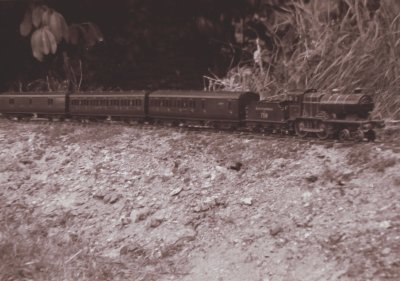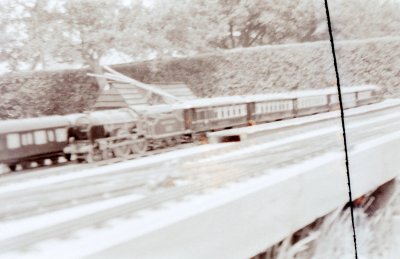 Templeford , the layout, and members of the Tandy family are now members of the Malvern 55 club, itself affiliated to the Association of Model Railway Clubs Wales and West of England. There is particular significance in this.

In 1959 a group of friends and colleagues from the Royal Radar Establishment Malvern, (as it was then known) got together with their shared interest in model railways. One of these people was "Hank" Hancock who was building his own garden railway. Part of this garden railway can be seen in the top right-hand photo showing the L1 and Dad's  3 Exley Southern green coaches. As a result of this, our dad produced two 8' x 2' boards laid with Hornby three rail steel track, which formed a terminus at the other end of the long L-shaped run from Hank's own terminus. These two 8' x 2' boards laid end to end formed the terminus that can be seen in the picture below left, and were photographed by the then 14-year-old Claire in the summer of 1959. These two boards were later built into the exhibition layout which has now become Templeford and can now be found at either end of the layout.

These friends, together with some others, then went on to form the Malvern Model Railway club in November 1959, starting with some 10 members which quickly grew to over 40 . Deciding to hold an exhibition in December 1960, the club then put out an appeal for exhibition layouts, thus the layout we now know as Templeford came into existence, built by our dad (Laurie Tandy), Peter Bradford, Ron Manning, George Osborne, and one or two other members of the Malvern Model Railway club with an interest in O gauge. Also helping where we could were myself (Claire) and Dave (then 12 years old) . Peter later went on to build Malvern (Meadow Road) which was featured in the May 1970 Railway Modeller as Railway of the month, but Peter also went on to play a very important series of roles with the Association of Model Railway Clubs Wales and West of England.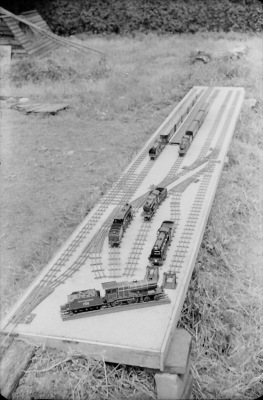 LEFT and RIGHT

 Dad's garden terminus for the Hancock garden railway on the left, Templeford West at its first excursion at the Bristol show on the right. Note the similarity caused by the track geometry.
For the record, the terminus on the left is 16 feet long, the terminus on the right is 20 feet long.
(Photo of Templeford West by Ian Tandy)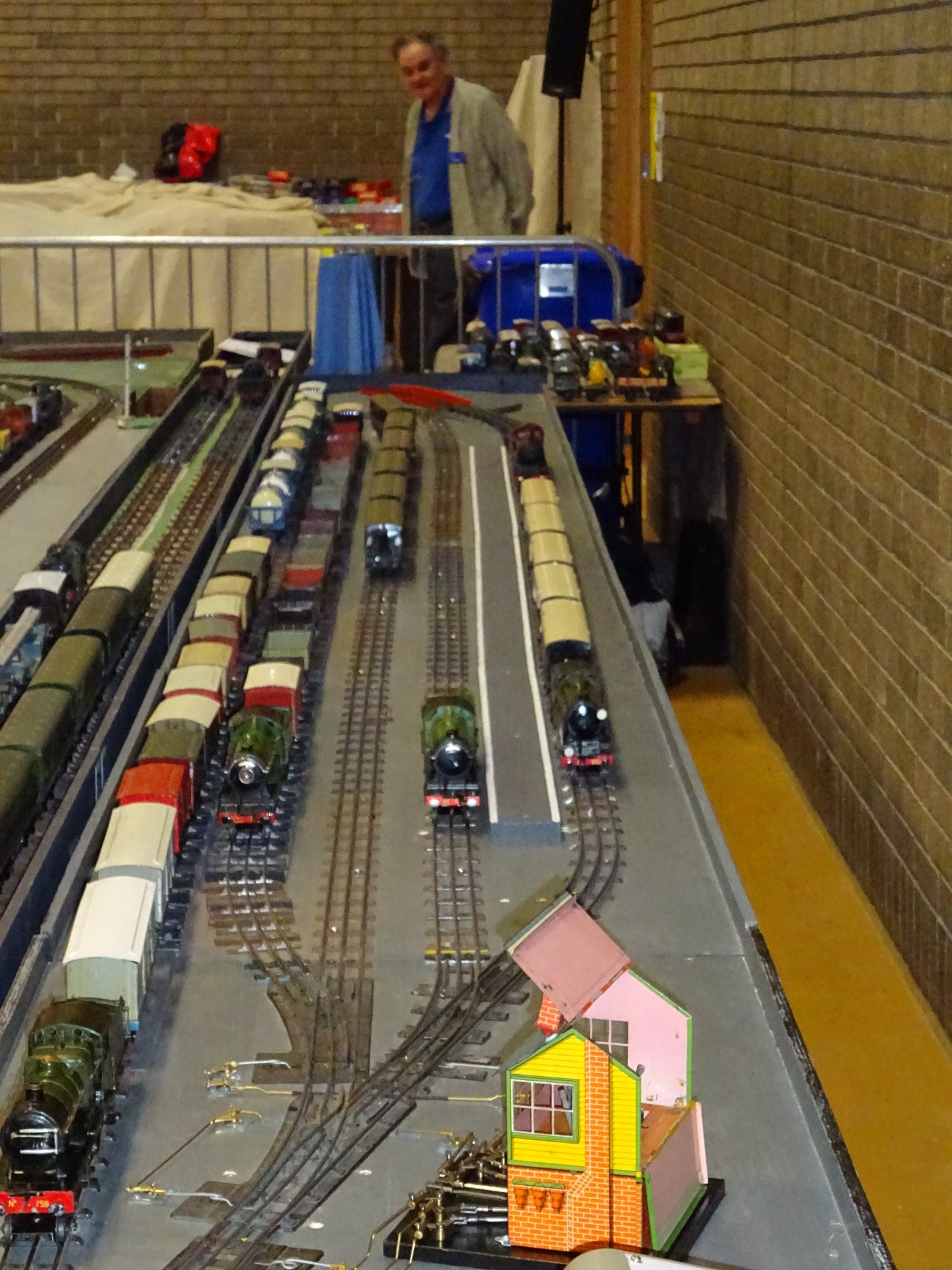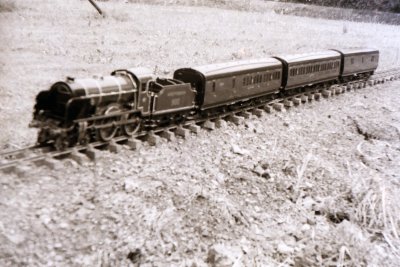 LEFT

A picture that has haunted me in its beauty for many years. This is clockwork Schools class Eton running with dad's three Exley coaches on the Hancock garden railway in 1959, coaches that we never found in his collection on his passing, meaning that he must have sold them at some stage.
Ever since we decided to restore the layout, I decided that if I ever saw some at a sensible price I would buy some similar ones to Dad's. After a three-year search, I finally fulfilled that dream.
When dad first exhibited the exhibition layout in 1960, he was 41 years old. We as his children are now all in our 60s and 70s, and we have often wondered what would become of Templeford once we are no longer fit enough to be able to exhibit it.
Will a next-generation want to take it on? Currently they are all busy with their own careers, but some of our own children do make time for Templeford occasionally. In this picture my elder son Andy is working the panel and my younger son Simon is at Templeford West.
Standing in the centre of the layout, is Nick Dodson of Railfilms who has taken a real interest in the layout, for which we are very grateful.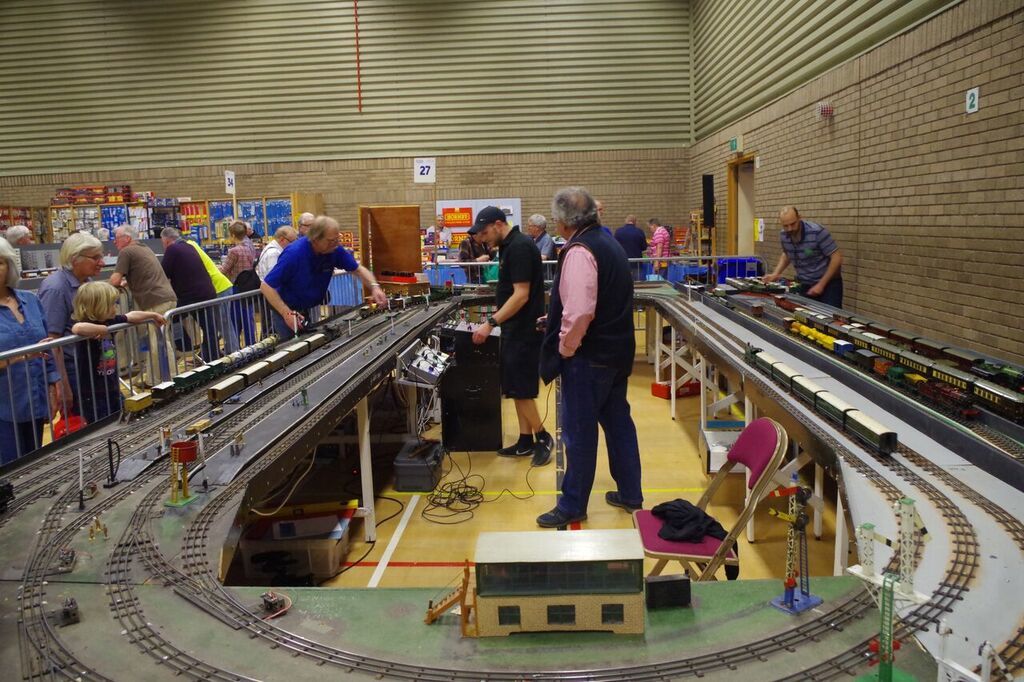 Photo above copyright Phil Tandy

All black-and-white photographs on this webpage were taken by Claire Sheppy (nee Tandy), then aged 14, using a Coronet Victor two speed two aperture box camera. At the time my main interests were fashion and photography, but anything was fair game for my camera, and as we children were regularly dragged along (mostly relatively willingly) to various railway events, the trains in the garden railway setting were quite appealing.

All photos on this page are copyright as stated, all other colour and black-and-white photos are copyright Claire Sheppy. None of the photos are to be used without permission.