Vintage O Gauge mostly Hornby exhibition layout.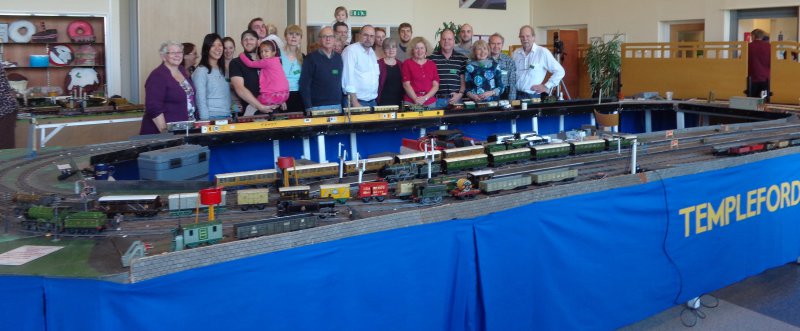 ABOVE
The late Laurie Tandy's exhibition layout, Templeford, with its owners, the Tandy family, standing behind the layout during its first showing since 1962.
​All of these photographs have been taken by people outside of the family. The locomotives themselves create a great deal of interest.
Many of them are Hornby.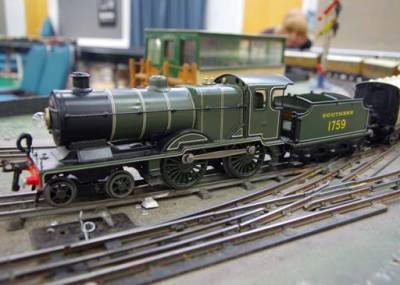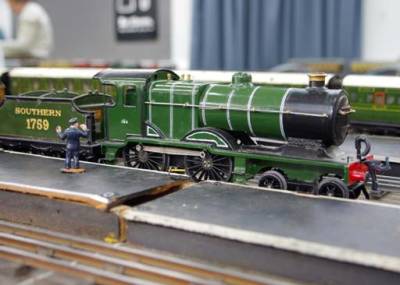 ABOVE  

Two of our five L1 locomotives. (both copyright Rick Woodward)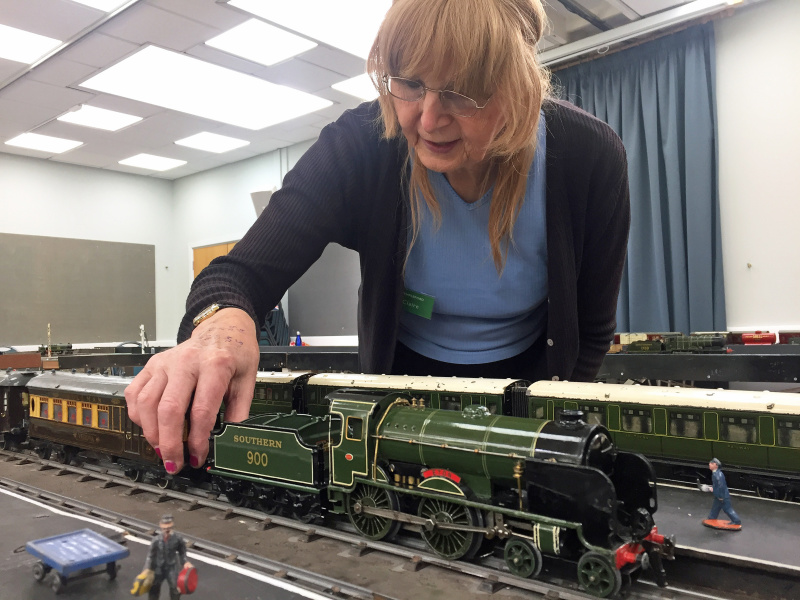 As the website builder I could not resist putting in the photo above which was taken by professional film maker Nick Dodson of Railfilms Ltd  (who holds the copyright to this photo.) This is the electric Hornby Schools class "Eton" (we have a clockwork one as well.), and shows me (Claire) uncoupling the loco so as to be removed from the train. The Schools class was almost certainly dad's favourite locomotive. Below are two of the others, "Harrow" (photo copyright Nick Dodson) on the turntable, and "Malvern" (photo copyright David Upton) in the coal road.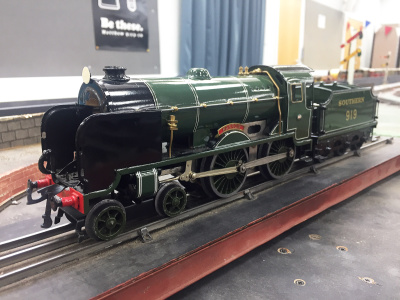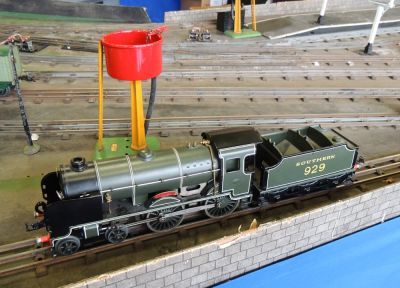 THE TEMPLEFORD LOCOS​
Some thoughts on collecting Hornby locomotives.

We have sometimes asked ourselves, was dad a Hornby railway collector? Certainly he was a member of the Hornby Railway Collectors Association, and yes he collected locomotives. Indeed in a paragraph from Railway Modeller May 1970 which featured Peter Bradford's Malvern (Meadow Road) as railway of the month, George Osborne who wrote the article remarks that "one of the Malvern club members has just about one of everything Hornby ever made." I have no doubt that he was referring to our dad.
Interestingly, the rest of the paragraph goes on to say "and although the purists might raise an eyebrow at the site of a number 2 special 4-4-2tank with four suburban coaches, on exhibition day it is guaranteed to bring out a military or reverend gentleman from the crowd to recall his boyhood layout. What indeed are these displays for if not to provide pleasure to the feepaying public?"

We ourselves I think it would be true to say are not Hornby railway collectors. Rather we have acquired a collection. We maintain a link with membership of the Hornby Railway Collectors Association, as they have a very good directory which gives access to sources of spares.

But there seem to be two sorts of collectors, firstly the ones who want everything to be absolutely mint and in their original boxes (in which they stay more or less permanently). And secondly the ones who do not worry too much if some of their examples are scratched or slightly dented or that the paint is fading but like to run them to see them in motion. Dad was much more the latter rather than the former.

Thus many of our locos are what are described these days as "play worn", and may be  slightly scratched or have been repainted. Individually, some of them are not worth a great deal. It is the collection that makes them special and the fact that they are all able to run and pull trains.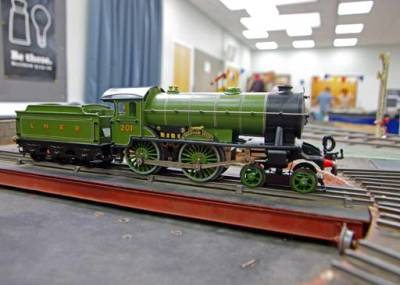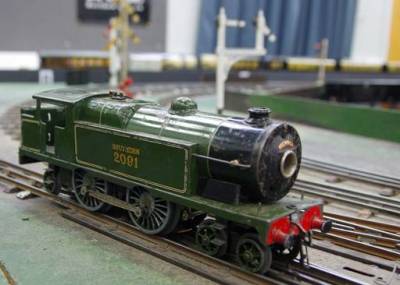 ABOVE
Two Hornby locomotives:

(left) Hunt class Bramham Moor sitting on the turntable and (right) 4-4-2 tank 2091 leaving the Motive Power Depot 
(both photos copyright Rick Woodward)

BELOW

Two non-Hornby locomotives

(left) Bassett Lowke Royal Scot and (right) Bing King Arthur.

photo left copyright Nick Dodson, and right copyright Rebecca Strong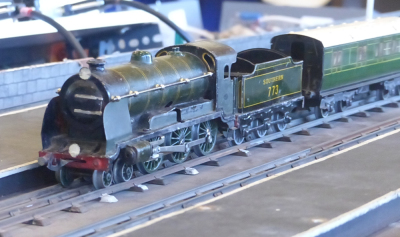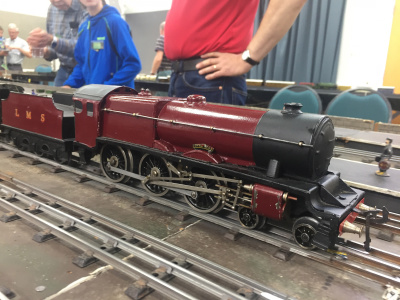 BELOW

Two kit or scratch built locomotives.

(Left) large Prairie tank, kit built superstructure (builder unknown,) underframe and motor built by Laurie Tandy, valve gear and motion built by David Atkinson,

(right) Drummond S11 entirely scratch built by Laurie Tandy.

(Both photos Copyright Rick Woodward )